Latest in
---
The fund, named SPE AIF I, is managed by SPE Capital Partners and will focus mainly on Egypt, Morocco, and Tunisia. Access to equity is especially constrained in these countries, because of macro-economic and political challenges.
---
"We've invested $400m in Egypt over 2019 till now," says Labadi
---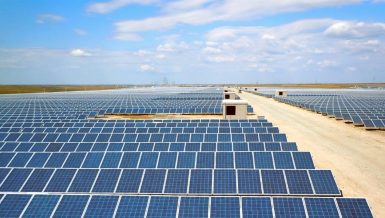 Sources at the ministry of electricity told Daily News Egypt that the IFC will set the controls and the mode of presenting the offers and their assessment, given that the auction system will be implemented in Egypt for the first time.
---
The International Finance Corporation (IFC) expressed its readiness to inject new investment into Egypt's planned hotel development fund, the COO of the IFC, Stephanie von Friedeburg, said. Egypt's ministry of tourism aims to establish a private equity fund targeting to restructure financially impaired hotels and other tourism establishments. During a meeting between the Egyptian Minister …
---
The International Finance Corporation (IFC), a member of the World Bank Group (WBG), announced on Wednesday a joint effort with Egypt's Ministry of Petroleum and Mineral Resources that aims to support Egypt in becoming a regional energy hub for the eastern Mediterranean region as well as improve its energy infrastructure. The IFC signed a memorandum …
---
The International Finance Corporation (IFC), a World Bank Group member, invested close to $200m in the Egyptian market over the last eight months, the IFC Country Manager for Egypt, Libya, and Yemen, Walid Labadi, told Daily News Egypt (DNE). The IFC chose Egypt earlier as a model for its investments in Middle East and Africa. …
---
IFC, partners ring bell for women's empowerment in Egypt
---
---
Minister Sahar Nasr to sign new agreement with IFC on Thursday
---
IFC, Daltex partner to boost opportunities for Egyptian women in agribusiness sector
---
IFC's investments in Egypt reach $2.9bn, including financing mobilised from other investors, between FY 2006, 2017
---
The International Finance Corporation (IFC) will support the Dakahlya Businessmen Association for Community Development (DBACD) as it scales up its lending operations and caters to borrowers who seek larger loans, according to a press statement issued on Sunday. The IFC, a member of the World Bank Group, said it will provide advisory services to a …
---
The International Finance Corporation (IFC) signed an agreement on Tuesday with the Commercial International Bank (CIB) to fund it with $100m. This funding is considered the first supporting loan provided by the IFC to a local bank. This came after the recent regulations approved by the Central Bank of Egypt (CBE) allowing international finance institutions …
---
The International Finance Corporation (IFC), which recently took part in the $2.5m fund that was raised by Palestine's Ibtikar, is heavily investing in a number of startups across the MENA region. Part of the World Bank Group, IFC has reached a total sum of $26.2bn of investments in Arab-based startups. In addition to its investment …
---
---
The International Finance Corporation (IFC), which recently took part in the $2.5m fund that was raised by Palestine's Ibtikar, is heavily investing in a number of startups across the MENA region. Part of the World Bank Group, IFC has reached a total sum of $26.2bn in investments in Arab-based startups. In addition to its investment …
---
The loan will enable AAIB to scale up its lending operations to smaller businesses
---
End of Section