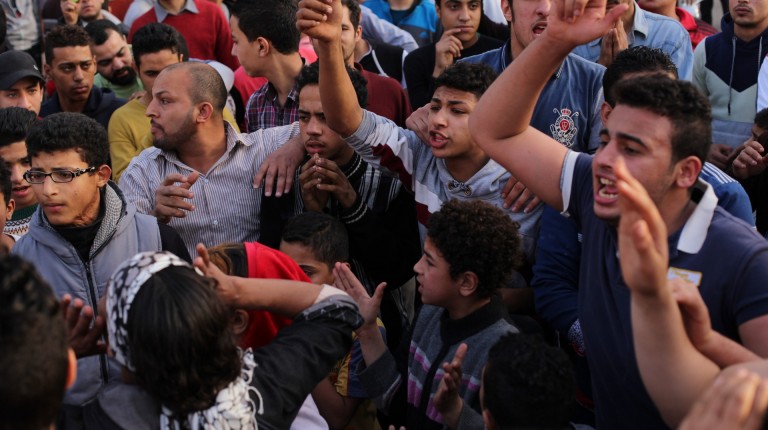 General Prosecutor Nabil Sadek ordered Sunday seven policemen from the self-titled "coalition of low-ranking police officers" to be imprisoned for 15 days pending investigations.
They were arrested Saturday by security forces, according to state media. The prosecution accused the policemen of inciting strike action at their work places, organising illegal protests, and belonging to a group whose target is to impact the work of Egyptian police.
Meanwhile other local media reported that the group of policemen were also accused of possessing drugs including hashish and unlicensed weapons.
In response to their arrest, the official Facebook page for low-ranking policemen called "Omanaa Masr'' released a statement, condemning their colleagues' arrest. They described it as "a despicable game that should be practiced by the national security forces against Muslim Brotherhood members not with them'' and also stated that the group will "reveal corruption at any cost''. Following this statement, the interior ministry shut down the page.
The seven policemen were arrested Saturday while they were entering the Media Production City to appear on a private TV channel with host Wael El-Ebrashy. El-Ebrahsy strongly condemned the arrest of the officers, saying it is a "crime" and an act not befitting the Ministry of Interior.
In the wake of the arrest, many low-ranking police officers in the governorate of Sharqeya organised a protest Sunday in front of the security directorate in solidarity with the arrested officers, demanding their immediate release.
The events come amid a growing number of reported police abuses, which have sparked outrage among activists and citizens nationwide. Following the shooting of a civilian in Al-Darb Al-Ahmar by a low-ranking officer, small protests erupted near the Cairo Security Directorate.