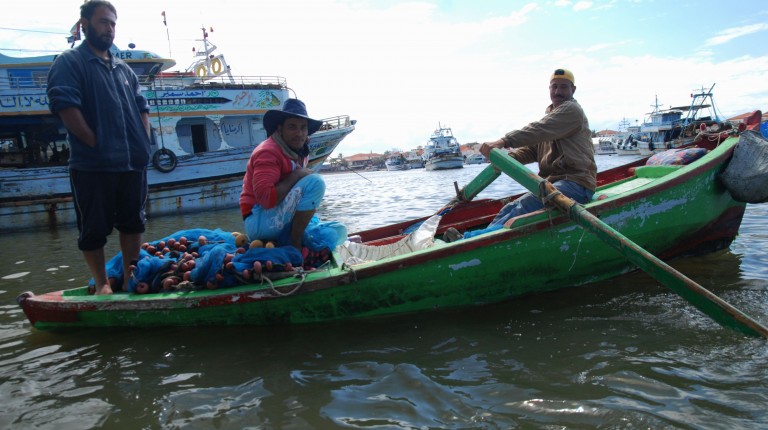 By Omnia Farrag
Conflicting statements were given on the number of Egyptian fishermen who drowned and went missing on Thursday after their boats sank and disappeared near the Libyan coast of city of Khoms, 100 km east of Tripoli.
The Ministry of Foreign Affairs stated that three fishermen have died in one boat that sank in the waters, while another boat with eight on board went missing. Also four fishermen were detained in Khoms police station, according to the report.
"We are still verifying the data, but the statements' numbers are the most updated numbers," Foreign Ministry Spokesperson Ahmed Abu Zeid told Daily News Egypt.
Both boats were travelling from the village of Al-Magzal in Egypt's Kafr El-Sheikh to Libya and all the fishermen were from the village. Thirty-six others from the same village had drowned in another incident earlier last week.
On the other hand, the General-Secretary of the Fishermen Syndicate in Damietta Ahmed El-Maghraby told Daily News Egypt that 26 fishermen had died and eight are missing. The syndicate is still verifying the identities of the victims. "The Ministry of Foreign Affairs has reasons not to say the correct numbers," added El-Maghraby.
El-Maghraby added that the reports say the sinking accident was due to bad weather, but the syndicate doubts the fishermen were illegal attempting emigration.
On his part, Head of the Fishermen Syndicate, Zarei El-Betani, said that the crew of one boat were only eight, while the rest were being smuggled illegally.
"I'm against those who take their boats and escape Egypt. Anyone who gets [illegally] out of [Egypt's] water territory is responsible for himself," El-Betani to Daily News Egypt. They cause problems for themselves and the state that couldn't be controlled, added El-Betani.
El-Maghraby added that fishermen seek illegal migration because they cannot earn their livelihood from fishing in Egyptian waters anymore. He added that all the fishing areas were destroyed by various violations such as pollution, so fishermen risk their lives and migrate illegally to feed their families.  The syndicate contacted the organisation of fishing wealth and the Ministry of Agriculture regarding violations, but with no sufficient response, said El-Maghraby.
Many Egyptians are migrating to Libya as their gateway to Europe's "shores of wealth", escaping from poverty and low standards of living in Egypt. However, thousands of them end up drowning at sea. In addition, many Egyptians have been kidnapped by militias since the eruption of the Libyan civil war.