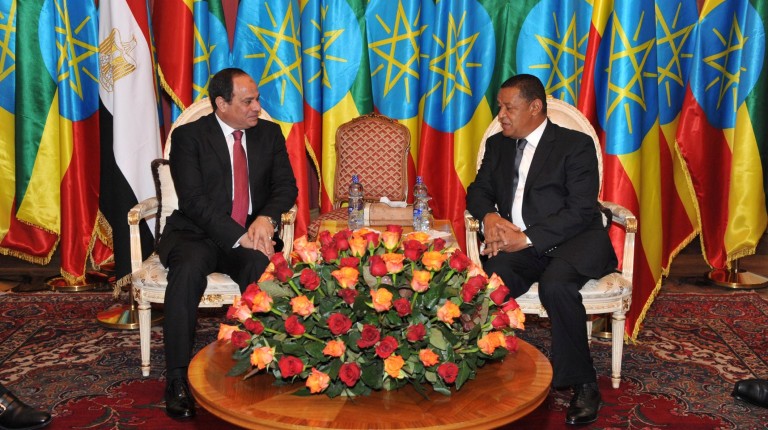 "We are taking about a new era between Egypt and Ethiopia," Egyptian President Abdel Fattah Al-Sisi said during an interview aired on Ethiopian TV, while he was visiting the African country last week.
The peoples of Egypt and Ethiopia deserve a better life, the relations should be better than they are, Al-Sisi highlighted.
"We are suffering from tough circumstances…We share the same feelings," Al-Sisi said, adding that 55 million Egyptians work in agriculture.
Citing water share insecurities, the president said that when the 1929 agreement was signed, Egypt's population was only fifth of its current number. "The world changes and the need is bigger now," Al-Sisi said.
Downstream countries Egypt and Sudan together receive the majority of Nile Water, according to the 1929 and 1959 agreements with Sudan, which took place in Ethiopia's absence. Britain had signed the initial 1929 on behalf of Egypt, its colony back then. Egypt currently holds the lion's share of the Nile's water resources, of 55bn cubic metres, compared to the Sudanese share of 18bn cubic metres.
Al-Sisi said the current relations seek to remove all Egyptians' uncertainties and worries concerning the water issue. "We are not talking about development of life, we are talking about life itself, we have no other option," Al-Sisi believes.
Egypt and Ethiopia need to work together to attain prosperity, development and sustenance of life in Egypt. The two parallel lines can meet "through negotiations", Al-Sisi pointed out, after years of diplomatic dispute between Egypt and Ethiopia over the GERD project.
He had signed a "good intentions" agreement on 23 March in Khartoum. The agreement sets the principles of cooperation between the two downstream countries Egypt and Sudan, and upstream Ethiopia.
But Ethiopians worrying about details would restore previous anxiousness, and "they should be addressed by officials who are keen to find the correct solutions", Al-Sisi asserted.
"We are ready to cooperate with love and responsibility," Al-Sisi said. "We are restoring trust between the two peoples after a tough time between Egypt and Ethiopia, let's take it step by step with the framework that the two peoples are predetermined not to hurt each other."
The Ethiopian's contribution to the dam is similar to Egyptian's contribution to the Suez Canal, Al-Sisi said, adding that the Canal was funded by Egyptians, and the dam represents hope and the future for Ethiopians.
Cooperation between Egypt and Ethiopia has improved after years of political dispute. Egypt's main concern since the GERD's establishment in 2011 is its water retaining capacity. Utilising more Nile water than any other country, Egypt fears the dam will have a detrimental effect on its share of the river's water.
During a Tuesday interview aired on Ethiopian television, Al-Sisi conveyed greetings from the Egyptian people to Ethiopians. He stressed that through dialogue and cooperation, both countries can take into account the interests of each other without inflicting harm.
Al-Sisi also congratulated the Ethiopian people for their "responsible…and open minded Prime Minister".
Ethiopia began constructing the GERD in 2011. Although Egypt had previously refused the dam's storage capacity of 74bn cubic metres, the 10 principle agreements did not disclose terms concerning this issue. The agreement stressed it would "not affect the water share of any downstream country".
The conflict reached its peak in 2013 following ousted President Mohamed Morsi's threats, calming down later, accumulating in a series of meetings between Egypt, Ethiopia and Sudan's ministers of water and irrigation. They reached consensus and filed a report to Al-Sisi in March 2015, following which the president was set to visit Sudan and sign the agreement.