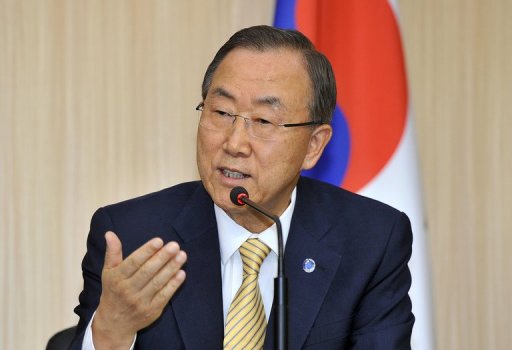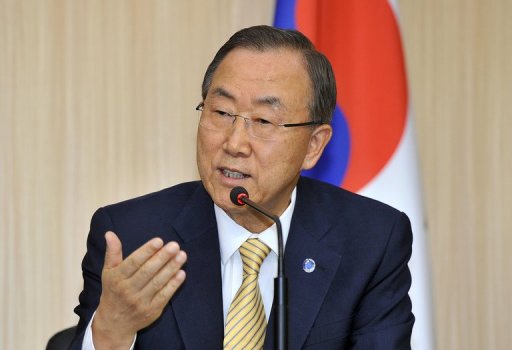 United Nations Secretary General Ban Ki-moon discussed Egypt's contribution to international peacekeeping efforts with Minister of Foreign Affairs Nabil Fahmy when the pair met in Brussels on Wednesday.
Meeting at Ban's residence in Brussels, Fahmy talked about "a number of regional and international issues such as the situation in Syria, Libya and the Ethiopian Renaissance Dam" according to the foreign ministry's spokesman.
Egypt has weighed in on several peacekeeping efforts as well as being one of the parties involved in the debate on the Ethiopian Dam.
Egypt said on Monday that it has not changed its stance on the Ethiopian Dam and that it would not make concessions that would impact upon its water share in regards to the building of the dam. Negotiations with Ethiopia and Sudan are ongoing.
Egypt expressed in a Wednesday statement its support for the efforts of United States Secretary of State John Kerry to keep the ongoing final status negotiations between the Palestinians and Israel alive following Kerry's decision to cancel a meeting with Palestinian Authority President Mahmoud Abbas. The Palestinian leader had announced that he is attempting to sign international treaties and UN conventions, which angered the Israeli side. In the statement Egypt reiterated its position on supporting the rights of the Palestinians.
Last month Fahmy travelled to Rome to attend a meeting regarding security in Libya. Egyptians living in Libya have been targeted in cases of killings and hostage taking in recent months. Fahmy was assured by the then Libyan Prime Minister Ali Zeidan of the safety of Egyptian expatriates in Libya.
Fahmy and Ban also discussed developments in Egypt. The foreign minister told Ban "the facts of the developments in Egypt" and the upcoming presidential elections.