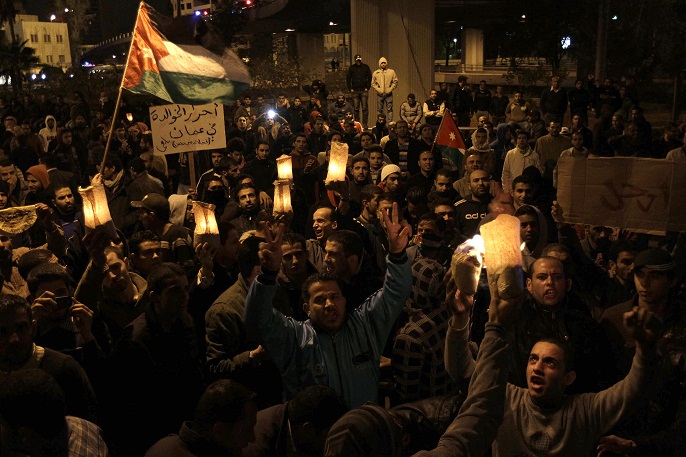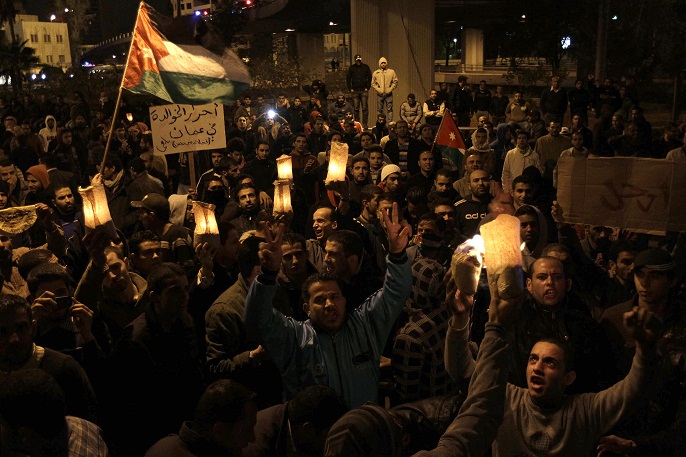 By Musa Hattar (AFP)
Amman – Jordan on Wednesday was hit by more protests and strikes as anger mounted against a government increase in fuel prices a day after mobs attacked a police station and surrounded the prime minister's house.
The sudden price hike drew sharp condemnation from the opposition Islamists, who warned of civil disobedience and increased opposition to the government in the run-up to general elections in January, which they are boycotting.
Angry protesters blocked a main road in downtown Amman as police warned they would use force if necessary to open the road.
The Islamists said they plan to demonstrate later Wednesday near the interior ministry, on Gamal Abdel Nasser Circle, where 24 people were arrested on Tuesday night during a demonstration by some 2,000 people.
Education officials said around half the country's 120,000 public school teachers went on strike Wednesday after a call by their union, affecting at least 2,000 schools countrywide.
"The strike will continue until the government goes back on its unjust and irresponsible decision that seeks to make Jordanians poorer," the teachers' union said in a statement.
Lawyers stopped working in Amman and other trade unions said they were considering similar strike action, while youth groups and some political parties staged demonstrations in the capital and other centres.
Violence erupted on Tuesday night as news spread of the prices increases, under which the cost of household gas will rise 53 per cent and petrol around 12 per cent.
The Public Security Directorate said Wednesday that 14 people were wounded, 10 of them policemen, when angry protesters attacked a police station in the northern city of Irbid and government buildings in Salt, west of Amman.
Police used tear gas and water cannons to break up a protest outside the house of Prime Minister Abdullah Nsur in Salt, his hometown, as well as demonstrations in other parts in Jordan, it said.
Protesters have demanded the resignation of the 35-day-old government of Nsur, who told state television on Tuesday that the hike was to help reduce a massive government deficit of 3.5 billion dinars (around $5 billion dollars) this year.
As "compensation," the government has said it will pay 420 dinar a year ($592) to families who earn less than 10,000 dinar ($14,000) a year.
Zaki Bani Rsheid, deputy leader of Muslim Brotherhood, expressed outrage over the price increases.
"This decision was a severe blow to the election. It has politically weakened the regime and not just the government," he told AFP.
"The polls, which were already facing a crisis, are in serious danger now. We are studying plans to escalate and respond to this move by the government," he said, warning that demonstrations could give way to "civil disobedience."
Jordanians have been staging street protests to demand reform since last year, with these expected to increase in the run-up to the polls, seen as key to introducing much-needed change.
"I think the hike in prices will heavily overshadow the elections, if they are held on time. Last-second surprises are expected," political analyst Oraib Rintawi, who runs the Al-Quds Centre for Political Studies, told AFP.
"What is the point of holding elections if the government is not listening to people's demands and not feeling their needs?"
The Islamists, the main opposition movement, have said they will boycott the 23 January election in protest at constituency boundaries they say are unfair, and at the failure to move towards a constitutional monarchy with an elected prime minister rather than one named by the king.