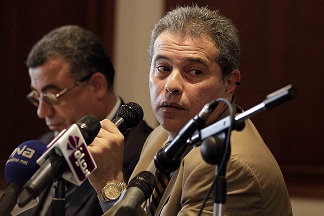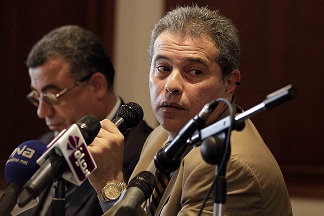 A misdemeanor court in Nasr City found controversial television personality, Tawfik Okasha, not guilty of insulting President Mohamed Morsy said state-owned newspaper Al-Ahram on Tuesday. The case is one of many filed against the owner of Al-Fara'een Channel.
The plaintiff, Khaled Saad, sought the maximum penalty for the offence for Okasha insulting Morsy on Egypt Today, a programme on a channel he owns.
The court dropped the case when the plaintiff failed to attend the case and provide evidence proving his claim.
The head of the defence team, Khaled Suleiman, said more than 30 cases have been filed against Okasha for insulting the president. He welcomed the court's decision, claiming it represented the independence and integrity of the judiciary.
Okasha's trial resumes on 7 November at the South Cairo Criminal Court, where he is accused of offending the president and calling for his assassination. A previous hearing on 3 October ended after ten minutes when Okasha's lawyers and civil claimants engaged in a heated debate that almost turned physical.
During an airing of his program, Okasha claimed that Morsy was not the legitimate president of Egypt and that assassination would be justified.
Al-Fara'een was temporarily shut down for six weeks following the host's comments.
Okasha is a controversial media figure who is known for his critical view of the Muslim Brotherhood and various other political figures. He is also characterised by his conspiracy theories and eccentric views.